We are Garthamlock & Craigend Parish Church and we are much more than just a church congregation. Our building has served the communities of Garthamlock & Craigend and beyond for over fifty years and we look forward to doing so for many more years to come with the development of our Community Garden which was funded by the Community Climate Action Fund. We hope to add to our current groups and services as we recover as a Community following the Covid 19 Pandemic.
Our Church is the ideal community venue. Our building is fully equipped for Conferences & Presentations / Movie nights / Kids birthday parties (max age 12) with space for bouncy castles / Weddings / Funerals / Memorial & family services.
Groups which would normally run during the week have been suspended during the Covid 19 Pandemic but we are slowly returning to some normality with Taekwon-Do, Karate, Community Gardening Group and Slimming World all meeting during the week at the Church. As restrictions ease and groups re-commence, our What's On page will be updated.
Hospitality has always been one of our best qualities at Garthamlock & Craigend Parish Church and our social events normally involve Food, Fellowship & Fun.
To find our more about what goes on inside our Church, browse through our pages, contact us using the enquiry form on the site or by giving us a call on 0141 766 1421. Better still why not pop in, have a chat and see what we have going on. We are always looking for volunteers to get involved whether it be serving Tea / Coffee during one of our groups or as a member of the Community Gardening Group.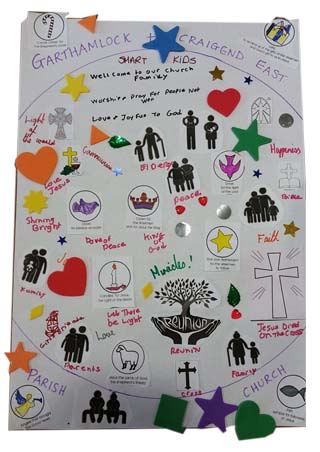 Coffee Mornings
Tea & Tots Mother and Toddler group
Community Gardening Group
Children / Youth activities
School Outreach
Dance & Stage Arts
Annual Community Carol Concerts
Worship and Services
We hold our normal Sunday Service at 11am.
We hold special services on Maundy Thursday, Easter Day, Christmas Eve and Christmas day.
We also hold Harvest and Holy week joint services with Cranhill Church in addition to gathering together throughout the year.
A typical Sunday will see around 30-40 people worshipping at the church and the ages range from babies to people in their nineties.
Our Sunday School - Smartkids is open to children aged 3 and upwards. All children are welcome to attend with or without a parent. Please contact us for further information.
We have an informal style of worship and friendly atmosphere which draws people from all backgrounds